Since the season opener event, the Rally Maniwaki, didn't really go as planned, we had to work quite a bit on the car to repair the damages.
Once we noted all the broken bits, Nicolas & Vincent rebuilt the whole front end of the car since it was bended by the force of the impact. After all, the car is now perfect!
A few mechanic parts were also broken; Turbo, radiator & transmission. Bug thanks to Turbo Parts Canada for their help with our new turbo.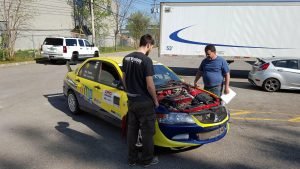 Once every part was repaired, it was time to install them in the car. We want to thank everybody that helped us with all of this work.
We finished working on the car on Friday, May 18th and our rig drivers were leaving the next morning.
Thierry, who is in the team since the beginning was then leaving alongside Gilbert to bring the car and all of our equipment at the opposite of Canada.
After 4 days of intense travel, our two drivers arrived in Calgary around noon on Tuesday. Thanks to Maxime McNeil at LakeView Automotive who worked hard on the car to make it perfect.
The rest of the team took the plane Thursday morning from Montréal to Calgary. Nicolas & Vincent will be doing the Recce on friday morning.
Follow us during Rally
During the rally, follow us with the RallySafe mobile App, on our website and on our social medias :
Facebook > @laverdiereRallyTeam
Instagram > @laverdiereRallyTeam
Youtube > @laverdiereRallyTeam
Twitter > @laverdiereRallyTeam
We want to thank our sponsors who made this possible
AMP Digital, GMD Motorsport, AZE Performance, Hoozier Racing Tires, Trottier Sport, Perry Auto, EXE-TC Suspension, Turbo Part Canada, Bully Clutch, StopTech